Windows Vista ReadyBoost
Microsoft has included a handy new feature in Windows Vista called ReadyBoost. What ReadyBoost does is enables you to use a ReadyBoost compatible USB flash drive or memory card from a camera as RAM for Windows to use.
his can be very useful if your computer is low on RAM and you plan on using some memory intensive programs such as Photoshop, Etc. I recommend using at least a 1 GB flash drive or memory card. To enable ReadyBoost is a pretty straightforward process. To enable ReadyBoost you will need to do the following:
1.insert your flash drive or memory
2. Open "My Computer" and then right click on the device and select "properties."
3. You will then see a tab labeled ReadyBoost, click on it and then check enable ReadyBoost.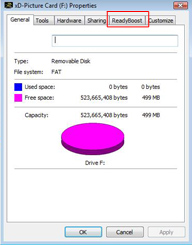 Note: Only newer flash drives and memory cards will work with ReadyBoost, they should be labeled ReadyBoost ready on the package. For a complete list on ReadyBoost compatible devices please visit this page.